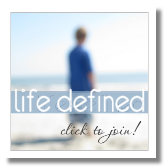 I am joining Brianna in life defined. You can click here to read more about it and here to join in the latest.
Excitement...

is learning the news that a baby is on the way.
Nervous...

is learning that baby may not make it.
Relief...

is learning that God has graciously allowed life to continue.
Sorrow...

is learning that while we rejoice a friend's baby has gone home to Heaven.
Tired...

is sleepy no matter how many hours of rest you get.
Nausea...

is sick 24/7.
Gladness...

is a day without nausea.
Resignation...

is remembering all that pregnancy is about as a diabetic.
Ouch...

is 10 needles a day to keep everyone healthy.
Frustration...

is eating a perfect diet and gaining 18 pounds in a month.
Full...

is having to eat every three hours around the clock even when you aren't hungry.
Miraculous...

is feeling a little life begin to move within you.
Joy...

is knowing that in a few short months, that little lamb will be in our arms.