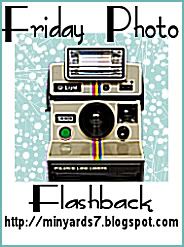 I am joining my friend Alicia her Friday Photo Flashback... that translates to pulling up the old film day memories. In our ongoing effort to salvage and scan photos damaged in the flood last May, Brianna came across a bunch of snap shots from our Church's Family Camp in 2000.
Family Camp was an annual fall weekend retreat at a secluded camp (don't worry we slept in beds in cabins) in the mountains of western Maryland. It was always such a blessing to get away from everything, fellowship with the brethren, play lots of fun and games, smore's around the camp fire, skits, hearing great preaching with up to three sermons a day, worshiping with music and of course eating great cooking... we are Baptists, after all.
I love this one of Brianna snuggling under my sweater to warm up. She was five at the time. Can you believe how much she and Elisabeth resemble each other?
And then there were these two of our friend Julie and Emma Rose, who was one at the time.
Don't you love those huge brown eyes? She was born with them. My friend used to say, "She'll grow into them."
Hard to imagine how fast time flies or how grown up these girls, and my Miss Julie, are today.