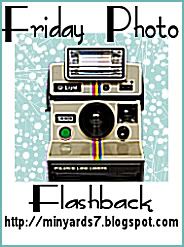 I am joining my friend Alicia for her Friday Photo Flashback... that translates to pulling up the old film day memories. In our on going effort to salvage and scan photos damaged in the flood last May, Brianna came across a snap shot of my brother's baptism, July 23rd, 2001.
Our church doesn't have a baptistry but at the time one of our church members did have a creek running through his farm. In the winter we used another church's building for such occasions but the creek we called the Summer baptistry. Brother Buck and our dear Pastor have both since gone to be with the Lord and this farm now has a road and business complex on it, but the memories made at the creek run deep.
This was such a momentous day for me as a sister, us as a family and our church as a whole. For so many years we had all prayed and shared the Lord's salvation with Frank hoping for him to give his heart over. The day he did, my heart was filled with the sense of joy I felt when each of my children believed on Jesus. And to celebrate his commitment at the creek was indeed a glorious day! To this day Frank is the only member of mine or Allen's family to profess the Lord Jesus Christ as his savior and that makes these memories even more special.
To join in the fun or see what others are remembering on Memory lane pop over to
More Than Words
.